Med Spa & Wellness
Services
Jumnah Thanapathy, MD, F.A.C.O.G. of South County Med Spa & Wellness Center works hard to give all of her Bay Area patients the body, face and optimal wellness that they've always wanted.
Bay Area DermaSweep
Provider
DermaSweep is the latest, non-invasive skin procedure that helps to improve patients' overall complexion and improve skin texture. DermaSweep is a microdermabrasion treatment that produces life-changing results you must see to believe!
DermaSweep in Gilroy
DermaSweep in GilroySouth County Med Spa & Wellness is excited to introduce our newest treatment addition, the DermaSweep MD. DermaSweep MD incorporates 3 unique therapies into 1 treatment with no downtime or patient discomfort. The synergistic combination of DermaSweep's highly efficient exfoliation, oxygen driven circulation, and targeted skin specific infusions increase treatment efficacy and patient satisfaction. The outcome is radiant, supple, firmer skin, with fewer lines and wrinkles, and improved tone and texture in fewer treatments.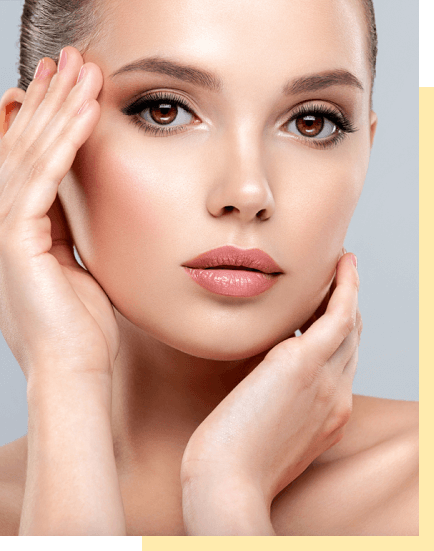 DermaSweep is the latest, non-invasive skin procedure offered at South County Med Spa & Wellness that helps to improve patients' overall complexion, remove dead skin, and improve skin texture. As our bodies naturally age, we slowly produce less collagen and elastin which are the proteins most responsible for healing and rejuvenating our skin. The loss of these proteins results in the visible formation of fine lines, creases, and wrinkles.
Along with these signs of aging, environmental factors or elements of your lifestyle can affect the appearance of your skin including acne scarring, sun spots, stretch marks, and uneven skin tones. These cosmetic issues are difficult to heal and even harder to cover up. Luckily, DermaSweep is a microdermabrasion treatment option that produces life-changing results you have to see to believe!
DermaSweep MD treatments are fast, pain-free, and are customized for each individual patient through 3 categories of paraben-free infusions. Gentle enough to use around the eye area, yet strong enough to treat concerns with pigmentation, fine line, wrinkles, laxity, and acne scaring.
Whether you need a "red carpet ready" solution for a special occasion or event, or are looking for a solution to a specific skin care need, DermaSweep can uncover a more beautiful you.
What to Expect at South County Med Spa & Wellness
During your first visit to our office, we will first determine if you are a good candidate for DermaSweep by learning more about your medical history and the desired results you are looking for. This consultation will give you a better understanding of the benefits to DermaSweep treatments and serves as an opportunity for us to answer any questions you may have. Once we have identified your goals, we will create a personalized DermaSweep treatment plan that's tailored to your exact physiological makeup and cosmetic concerns.
How Does DermaSweep Work?
DermaSweep involves a specialized resurfacing technique to lift away the top layer of skin to reveal healthier, younger-looking skin. This best-in-class treatment option stimulates blood flow, cleans your pores, and will leave your skin feeling much smoother and looking much brighter.
These specialized bristles and adjustable vacuum gently brush your skin to enhance your complexion and remedy even the most severe cosmetic issues. This procedure works for patients of all skin types and is especially effective for those with sensitive skin.
DermaSweep can improve the appearance of:
Wrinkles
Fine lines
Age Spots
Sun damage
Agnee scarring
Stretch marks
By removing the dead skin, DermaSweep stimulates blood flow to encourage your skin to produce new collagen and elastin which lessens scars, smooths wrinkles, and evens out imbalanced skin tones. Unlike traditional dermabrasion procedures, DermaSweep uses infusion therapy to improve the skin's natural renewal process. The paraben-free infusion can be customized to address your specific skin by blending
ingredients such as peptides and other growth factors or vitamin C. Our custom infusions will ensure you gain optimal rejuvenation to restore your skin's radiance and youthful glow.
Our team of friendly, passionate professionals are dedicated to helping you look and feel your best. We are proud to offer DermaSweep as a safe alternative to traditional, dermabrasion procedures. By taking into account your cosmetic concerns, we tailor the DermaSweep treatment to your exact needs and desired results to achieve smoother skin, a more balanced complexion, and a happier, healthier you.
For more information on DermaSweep or to schedule an appointment, please don't hesitate to contact us today at (408) 647-7792!
I was initially reluctant to try PRP treatment but was convinced after I visited Dr Thanapathy's clinic. The dark spots on my face has faded and I no longer looked aged and tired. Dr Thanapathy is very down to earth and will recommend the right treatment for you. I would highly recommend anyone visiting San Francisco or San Jose to make an appointment at the South County Med Spa and spoil yourself with a PRP treatment.
Dr Thanapathy is the most professional and accomplished medical professional. She has delivered both my children (c sec) due to complication and my scar is small and neat and my recovery was fast and seamless under her care. She is a top-class surgeon who made me feel comfortable and safe. She is a no-nonsense doctor; however, she is also sensitive to a woman's needs and concerns when required. Her priority is a healthy mom and healthy baby at any cost. I highly recommend her! I am forever in her debt for delivering my children.
"Knowledgeable, caring, straightforward, understanding. I would and have recommended her multiple times. She delivered both my children and was very attentive and helpful. Very open to questions. Definitely my favorite doctor!"
Dr. Thanapathy is an exceptional doctor. She is all about excellent patient care. No nonsense, all business, very professional. Love her!