Med Spa & Wellness
Services
Jumnah Thanapathy, MD, F.A.C.O.G. of South County Med Spa & Wellness Center works hard to give all of her Bay Area patients the body, face and optimal wellness that they've always wanted.
Gilroy California BOTOX®
Cosmetic Specialists
BOTOX® Cosmetic. It's the #1 selling treatment of its kind. BOTOX® Cosmetic is used to treat many cosmetic concerns in both men and women, including lines between the brows, frown lines, forehead lines, crow's feet, and neck bands.
Botox in Gilroy
Botox in GilroyAt South County Med Spa & Wellness Center, Dr. Thanapathy provides BOTOX treatments to men and women from in and around San Jose, California to help them to look and feel their best.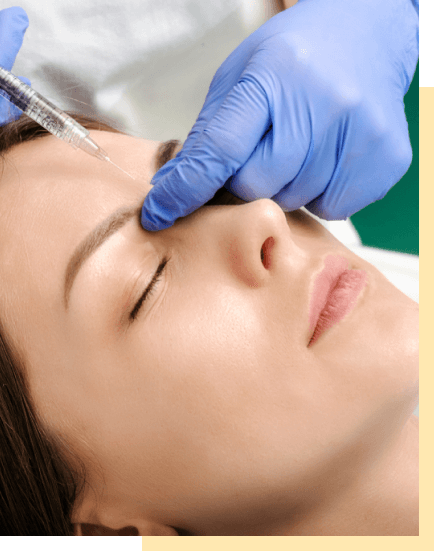 What is BOTOX® and how does it work?
BOTOX Cosmetic is an FDA-approved treatment proven to smooth the appearance of fine lines and wrinkles in men and women that are caused by overactive facial muscles. The FDA-approved BOTOX neurotoxin temporarily prevents unwanted muscle contractions by blocking nerve signals in the muscle it is injected in.
What cosmetic and medical concerns can BOTOX treat?
BOTOX is used to treat many cosmetic concerns in both men and women, including lines between the brows, frown lines, forehead lines, crow's feet, and neck bands. It can be used to reduce muscles in a bulky jaw line, correct an asymmetrical smile, lift the brow, and treat other facial concerns that are caused by over-contracted muscles. BOTOX is also approved for the medical treatment of excessive sweating, chronic neck pain, and even certain kinds of chronic migraines.
What should I expect from treatment?
A BOTOX injection session takes between 10 and 20 minutes. Dr. Thanapathy will discuss each patient's expectations and determine the number of injections needed in specific parts of the face to achieve those goals. Male and female patients will emerge from treatment with younger- and smoother-looking skin. BOTOX treatments do not require downtime. Many patients have the treatment completed during their lunch hour. The full effects of the injections are noticeable 3 to 5 days after treatment. The results are temporary and touch-up appointments are needed approximately every 2-6 months depending upon the areas treated.
What should I do if I am interested in BOTOX?
Any men or women in the San Jose, California area who are interested in reducing the appearance of facial wrinkles and fine lines should contact South County Med Spa & Wellness Center to schedule a BOTOX consultation. Dr. Thanapathy will discuss the treatment and your concerns to determine if BOTOX is the best treatment for your needs.
I was initially reluctant to try PRP treatment but was convinced after I visited Dr Thanapathy's clinic. The dark spots on my face has faded and I no longer looked aged and tired. Dr Thanapathy is very down to earth and will recommend the right treatment for you. I would highly recommend anyone visiting San Francisco or San Jose to make an appointment at the South County Med Spa and spoil yourself with a PRP treatment.
Dr Thanapathy is the most professional and accomplished medical professional. She has delivered both my children (c sec) due to complication and my scar is small and neat and my recovery was fast and seamless under her care. She is a top-class surgeon who made me feel comfortable and safe. She is a no-nonsense doctor; however, she is also sensitive to a woman's needs and concerns when required. Her priority is a healthy mom and healthy baby at any cost. I highly recommend her! I am forever in her debt for delivering my children.
"Knowledgeable, caring, straightforward, understanding. I would and have recommended her multiple times. She delivered both my children and was very attentive and helpful. Very open to questions. Definitely my favorite doctor!"
Dr. Thanapathy is an exceptional doctor. She is all about excellent patient care. No nonsense, all business, very professional. Love her!