Med Spa & Wellness
Services
Jumnah Thanapathy, MD, F.A.C.O.G. of South County Med Spa & Wellness Center works hard to give all of her Bay Area patients the body, face and optimal wellness that they've always wanted.
Hormone Replacement Therapy
What is Hormone Replacement Therapy?
Hormone Replacement Therapy (HRT) is a medical treatment that involves supplementing or replacing hormones in the body, typically to manage symptoms related to hormonal imbalances, menopause, or certain medical conditions.
Hormones are chemical messengers produced by various glands in the body, and they play a crucial role in regulating various bodily functions and processes.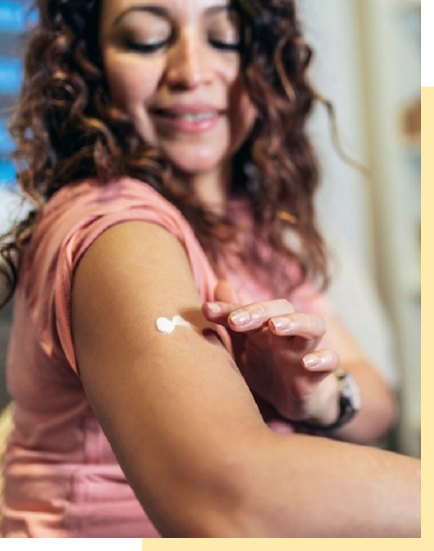 How does Hormone Replacement Therapy Benefit You?
Relief from Menopause Symptoms: HRT is highly effective in alleviating the uncomfortable symptoms of menopause, such as hot flashes, night sweats, mood swings, sleep disturbances, vaginal dryness, and decreased libido. Estrogen therapy, in particular, can provide relief from these symptoms.
Bone Health: Estrogen plays an effective role in maintaining bone density. During menopause, the decrease in estrogen levels can lead to a higher risk of osteoporosis and fractures. HRT, especially when started around the time of menopause, can help maintain bone density and reduce the risk of osteoporosis.
Vaginal Health: HRT, particularly local estrogen treatments like creams or vaginal rings, can help alleviate vaginal dryness, discomfort during intercourse, and thinning of vaginal tissues that can occur during menopause.
Is Hormone Replacement Therapy Safe for Women?
Hormone replacement therapy (HRT) for women can be safe and effective when carefully managed and prescribed by qualified healthcare professionals. HRT involves supplementing hormones like estrogen and progesterone to alleviate symptoms associated with menopause or hormonal imbalances. The safety of HRT depends on factors such as individual health history, the type of hormones used, dosage, and administration method.
Choosing hormone replacement therapy is a significant decision, and we're here to guide you every step of the way. Our caring team prioritizes your health and safety, offering a comprehensive evaluation before recommending any treatment. We're committed to open communication, ensuring you're well-informed about your options and the potential benefits and risks.
I was initially reluctant to try PRP treatment but was convinced after I visited Dr Thanapathy's clinic. The dark spots on my face has faded and I no longer looked aged and tired. Dr Thanapathy is very down to earth and will recommend the right treatment for you. I would highly recommend anyone visiting San Francisco or San Jose to make an appointment at the South County Med Spa and spoil yourself with a PRP treatment.
Dr Thanapathy is the most professional and accomplished medical professional. She has delivered both my children (c sec) due to complication and my scar is small and neat and my recovery was fast and seamless under her care. She is a top-class surgeon who made me feel comfortable and safe. She is a no-nonsense doctor; however, she is also sensitive to a woman's needs and concerns when required. Her priority is a healthy mom and healthy baby at any cost. I highly recommend her! I am forever in her debt for delivering my children.
"Knowledgeable, caring, straightforward, understanding. I would and have recommended her multiple times. She delivered both my children and was very attentive and helpful. Very open to questions. Definitely my favorite doctor!"
Dr. Thanapathy is an exceptional doctor. She is all about excellent patient care. No nonsense, all business, very professional. Love her!