Med Spa & Wellness
Services
Jumnah Thanapathy, MD, F.A.C.O.G. of South County Med Spa & Wellness Center works hard to give all of her Bay Area patients the body, face and optimal wellness that they've always wanted.
Microneedling Treatments
for Non-Surgical Skin
Rejuvenation
South County Med Spa & Wellness offers micro-needling treatments with Dermapen for patients interested in tightening loose or lax skin, reduce the appearance of fine lines and acne scarring, and improve the tone and texture of the skin.
Microneedling is one of the safest and most effective ways to improve the appearance of your skin and rejuvenate the underlying tissue. As a part of our body's natural aging process, our skin experiences a loss of collagen and elastin, which results in the formation of fine lines, creases, and wrinkles. Along with the natural aging process, the visible appearance of your skin can be altered by environmental factors or elements of your lifestyle such as exposure to the elements, uneven skin tones, stretch marks, or dark spots.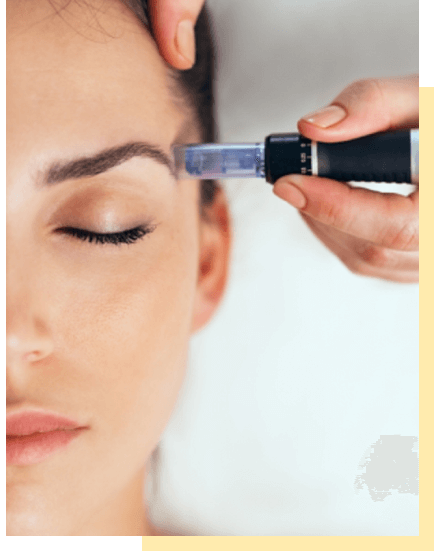 Even acne can lead to scarring as you age which results in an uneven skin texture that can be hard to cover up. As a nonsurgical alternative to injectables and other treatments, microneedling is the optimal choice for treating a variety of skin conditions.
During your first visit to our office, we will first determine if you are a good candidate for microneedling by learning more about your medical history and the desired results you want to achieve after receiving treatment. This consultation also serves as a time for you to gain a better understanding of microneedling and for us to answer any questions you may have. Once we create a microneedling treatment plan that's personalized to your physiological makeup and needs, we will begin treatment.
How does microneedling work?
We offer a variety of microneedling services depending on your specific needs. The most common microneedling devices use very fine, short needles that can be slowly rolled over the skin by a medical professional. When the needles pass over the skin, they gently poke through the surface; creating micro-tears that are invisible to the naked eye but help spur the natural rejuvenation process. Due to the short recovery time, minimal discomfort, and life-changing results, microneedling has quickly become one of the most popular skin treatments we offer.
Because microneedling is nonsurgical and minimally-invasive, most patients can return to their everyday activities right away. However, your skin may be a bit more sensitive to light and pink in color immediately following your treatment. If this is the case, remember that your skin is in the process of healing itself, so you should limit your exposure to direct sunlight or harsh chemicals such as some makeup and foundations. Within a day or two, your complexion will naturally even out, and you won't even be able to tell you had the procedure done, except by the noticeable results!
Immediately after your treatment, your collagen and elastin production will dramatically increase and continue to do so over the next several weeks. The new collagen and elastin that your body produces will be responsible for filling in scar indentations, revitalizing the surface of your skin, smoothing out discolored areas, and balancing your skin tone.
Microneedling helps reinvigorate the skin to give it a more youthful glow and smooth feel without the downtime or cost of other dermatology treatments or injectable fillers. We know how important it is to feel comfortable in your skin and confident in your appearance which is why your personalized microneedling treatment will be tailored to your exact needs. Our staff are experts in performing pain-free, results-driven microneedling procedures for our patients. With us, you are in the best of hands as we work to heal your skin and help lead a happier, healthier life.
For more information on microneedling or to schedule an appointment, please don't hesitate to contact us today at (408) 647-7792!
I was initially reluctant to try PRP treatment but was convinced after I visited Dr Thanapathy's clinic. The dark spots on my face has faded and I no longer looked aged and tired. Dr Thanapathy is very down to earth and will recommend the right treatment for you. I would highly recommend anyone visiting San Francisco or San Jose to make an appointment at the South County Med Spa and spoil yourself with a PRP treatment.
Dr Thanapathy is the most professional and accomplished medical professional. She has delivered both my children (c sec) due to complication and my scar is small and neat and my recovery was fast and seamless under her care. She is a top-class surgeon who made me feel comfortable and safe. She is a no-nonsense doctor; however, she is also sensitive to a woman's needs and concerns when required. Her priority is a healthy mom and healthy baby at any cost. I highly recommend her! I am forever in her debt for delivering my children.
"Knowledgeable, caring, straightforward, understanding. I would and have recommended her multiple times. She delivered both my children and was very attentive and helpful. Very open to questions. Definitely my favorite doctor!"
Dr. Thanapathy is an exceptional doctor. She is all about excellent patient care. No nonsense, all business, very professional. Love her!