Med Spa & Wellness
Services
Jumnah Thanapathy, MD, F.A.C.O.G. of South County Med Spa & Wellness Center works hard to give all of her Bay Area patients the body, face and optimal wellness that they've always wanted.
Red Light Therapy - We Illuminate Your Beauty
Discover the remarkable world of Red Light Therapy at South County Med Spa & Wellness Center, a proven and safe method for achieving a rejuvenated appearance and a host of health advantages. Harnessing the power of light energy, this cutting-edge procedure stimulates cellular activity, yielding numerous benefits for both skin and overall well-being. As a pioneer in light-based therapy services, South County Med Spa & Wellness Center offers top-notch treatments and transformative results.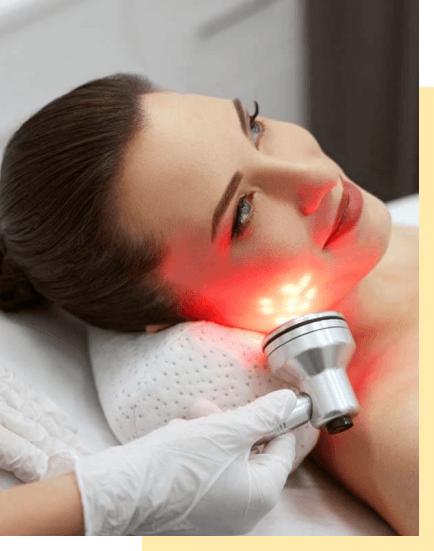 Understanding Red Light Therapy (PBM)
Red Light Therapy, also known as Photo Bio Modulation therapy or PBM, involves the targeted delivery of red and near-infrared light throughout the body in an efficient full-body treatment. By providing the right wavelength, intensity, and duration of light, this therapy prompts cells to produce additional energy, empowering them to repair, replicate, and function optimally. The manifold advantages of this cellular enhancement include reduced pain and inflammation, faster post-exercise recovery, accelerated healing from injuries, and a decrease in fat and cardio metabolic risk factors. Many clients also report improved sleep, reduced stress, and enhanced mood.
At South County Med Spa & Wellness Center, Red Light Therapy is available in two distinct forms. The Red Light Panel room features nine strategically placed panels that ensure full coverage for clients during the treatment. Alternatively, clients can opt for the Red Light/Collagen bed, which offers light placements both above and below the surface, providing comprehensive therapy.
Why Opt for Red Light Therapy?
Red light treatment is becoming increasingly popular due to its non-invasive nature, low side effects, and absence of downtime.
This therapy efficiently tackles a variety of skin issues, such as acne, irritation, fine lines, and wrinkles, and is appropriate for practically all skin types and tones.
Red light treatment improves skin health, accelerates wound healing, and reduces muscular soreness by increasing blood flow and the creation of nitric oxide (NO) within cells.
Furthermore, the treatment increases the manufacturing of antioxidant enzymes, which reduces oxidative stress and prevents additional cellular damage.
Red light treatment is a useful tool for persons with acne-prone skin, increasing the immune system's defenses against acne-causing germs.
Experience the Radiance of Red Light Therapy Today!
Schedule a Red Light Therapy appointment at South County Med Spa & Wellness Center to take the first step toward a more vibrant and healthy self. Learn about the amazing advantages of this non-invasive and unique therapy that can regenerate your skin, relieve pain, improve your sleep, and improve your general well-being.
Why wait? With Red Light Therapy, you can embrace the future of well-being. Call us today to schedule your consultation and discover the power of light-based healing. South County Med Spa & Wellness Center's skilled staff is ready to lead you on your path to a brighter, more radiant you. Don't pass up this chance to witness the transforming impact of Red Light Therapy. Act today and see the amazing effects it may have on your life.
I was initially reluctant to try PRP treatment but was convinced after I visited Dr Thanapathy's clinic. The dark spots on my face has faded and I no longer looked aged and tired. Dr Thanapathy is very down to earth and will recommend the right treatment for you. I would highly recommend anyone visiting San Francisco or San Jose to make an appointment at the South County Med Spa and spoil yourself with a PRP treatment.
Dr Thanapathy is the most professional and accomplished medical professional. She has delivered both my children (c sec) due to complication and my scar is small and neat and my recovery was fast and seamless under her care. She is a top-class surgeon who made me feel comfortable and safe. She is a no-nonsense doctor; however, she is also sensitive to a woman's needs and concerns when required. Her priority is a healthy mom and healthy baby at any cost. I highly recommend her! I am forever in her debt for delivering my children.
"Knowledgeable, caring, straightforward, understanding. I would and have recommended her multiple times. She delivered both my children and was very attentive and helpful. Very open to questions. Definitely my favorite doctor!"
Dr. Thanapathy is an exceptional doctor. She is all about excellent patient care. No nonsense, all business, very professional. Love her!