Med Spa & Wellness
Services
Jumnah Thanapathy, MD, F.A.C.O.G. of South County Med Spa & Wellness Center works hard to give all of her Bay Area patients the body, face and optimal wellness that they've always wanted.
Ultrasound imaging, also known as sonography, is a safe and non-invasive medical technique that uses sound waves to create detailed images of the inside of your body.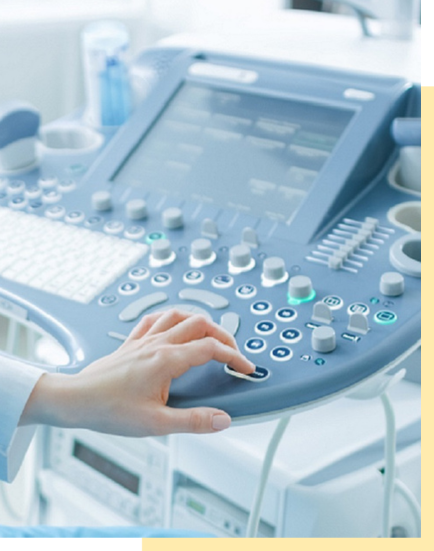 Our Ultrasound Offerings:
Pregnancy Ultrasound: Our specialized pregnancy ultrasounds provide expectant parents with a closer look at their growing miracle. With utmost precision, we capture detailed images to monitor the health and development of your baby.
Gynecological Ultrasound: We offer comprehensive gynecological ultrasound services, enabling us to examine and assess the health of your reproductive organs. This aids in the early detection of any concerns, allowing for timely intervention and personalized treatment plans.
Pelvic Ultrasound: Our pelvic ultrasound evaluations provide insights into conditions affecting the pelvic region, assisting in the diagnosis and management of issues such as fibroids, cysts, and more.
Advanced Technology: We use cutting-edge ultrasound equipment to provide detailed and accurate images, ensuring precise diagnostics.
Experienced Technology: Our skilled medical team includes experts trained in ultrasound imaging, ensuring you receive top-notch care.
Comprehensive Diagnostics: Our ultrasound services offer insights into various medical concerns, enabling us to tailor treatment plans to your unique needs.
Comfort and Care: We prioritize your comfort and well-being throughout the ultrasound procedure, ensuring a relaxed experience.
Schedule your Appointment!!
Whether you're an expectant parent seeking a glimpse of your baby or in need of thorough diagnostics, our ultrasound services are here to assist you. Contact us today to schedule your ultrasound appointment and experience the exceptional care provided by South County Med Spa & Wellness Center. Your health is our priority, and we're here to support you every step of the way.
I was initially reluctant to try PRP treatment but was convinced after I visited Dr Thanapathy's clinic. The dark spots on my face has faded and I no longer looked aged and tired. Dr Thanapathy is very down to earth and will recommend the right treatment for you. I would highly recommend anyone visiting San Francisco or San Jose to make an appointment at the South County Med Spa and spoil yourself with a PRP treatment.
Dr Thanapathy is the most professional and accomplished medical professional. She has delivered both my children (c sec) due to complication and my scar is small and neat and my recovery was fast and seamless under her care. She is a top-class surgeon who made me feel comfortable and safe. She is a no-nonsense doctor; however, she is also sensitive to a woman's needs and concerns when required. Her priority is a healthy mom and healthy baby at any cost. I highly recommend her! I am forever in her debt for delivering my children.
"Knowledgeable, caring, straightforward, understanding. I would and have recommended her multiple times. She delivered both my children and was very attentive and helpful. Very open to questions. Definitely my favorite doctor!"
Dr. Thanapathy is an exceptional doctor. She is all about excellent patient care. No nonsense, all business, very professional. Love her!